✅District Recruitment Fair 🗓️Saturday, Feb. 4 📍Mid-Carolina High School - 377 Cy Shumpert Rd. Prosperity, SC 29127 ⏰9-11 a.m. 🥳Certified and Classified Openings 🤝All Schools and Departments Represented

✅District Recruitment Fair 🗓️Saturday, Feb. 4 📍Mid-Carolina High School - 377 Cy Shumpert Rd. Prosperity, SC 29127 ⏰9-11 a.m. 🥳Certified and Classified Openings 🤝All Schools and Departments Represented

✅District Recruitment Fair 🗓️Saturday, Feb. 4 📍Mid-Carolina High School - 377 Cy Shumpert Rd. Prosperity, SC 29127 ⏰9-11 a.m. 🥳Certified and Classified Openings 🤝All Schools and Departments Represented

✅District Recruitment Fair 🗓️Saturday, Feb. 4 📍Mid-Carolina High School - 377 Cy Shumpert Rd. Prosperity, SC 29127 ⏰9-11 a.m. 🥳Certified and Classified Openings 🤝All Schools and Departments Represented

✅District Recruitment Fair 🗓️Saturday, Feb. 4 📍Mid-Carolina High School - 377 Cy Shumpert Rd. Prosperity, SC 29127 ⏰9-11 a.m. 🥳Certified and Classified Openings 🤝All Schools and Departments Represented

Recruitment Fair! Saturday, February 4 Mid-Carolina High School 9-11 a.m. Recruiting for all schools and departments

Nightly internet shutoff times affecting only school-issued, student devices. Please refer to the FAQ document for additional information.

The School District of Newberry County is committed to ensuring the safety of its students, staff, and spectators at athletic events.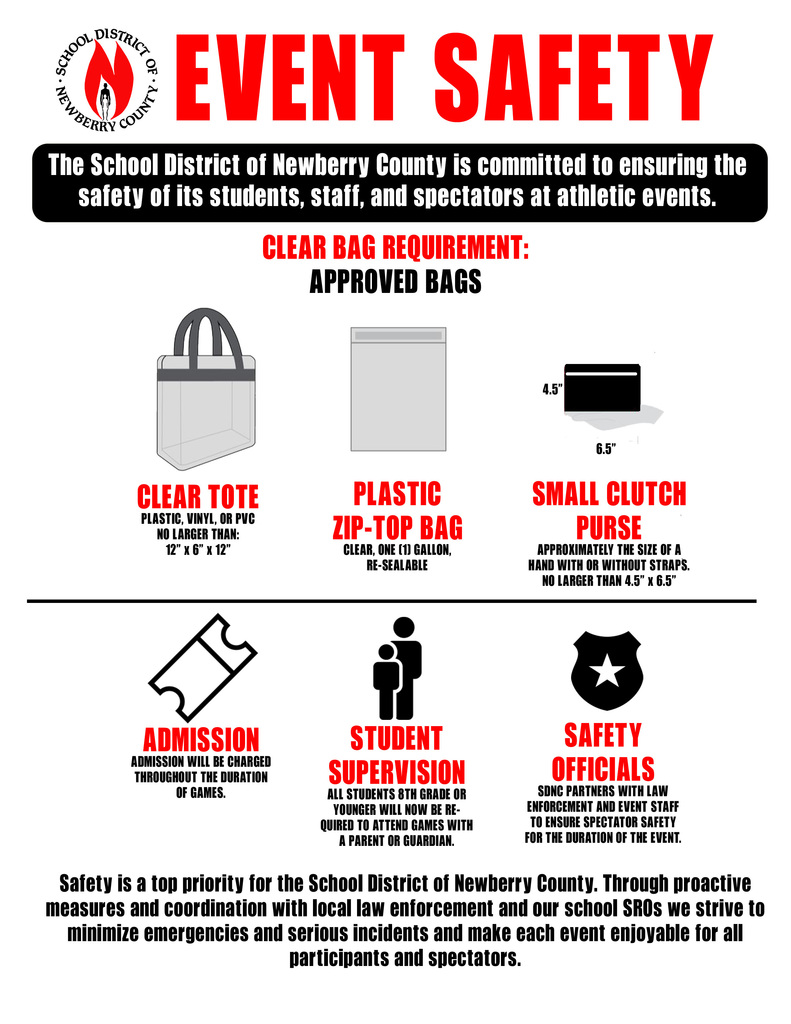 NCCC will post Schoology lessons for NHS students on Monday May 23. Mid-Carolina and Whitmire students will report to class as normal.
Parents, please complete this survey regarding the Career Center: bit.ly/22clnaparent
NCSD Recruitment Fair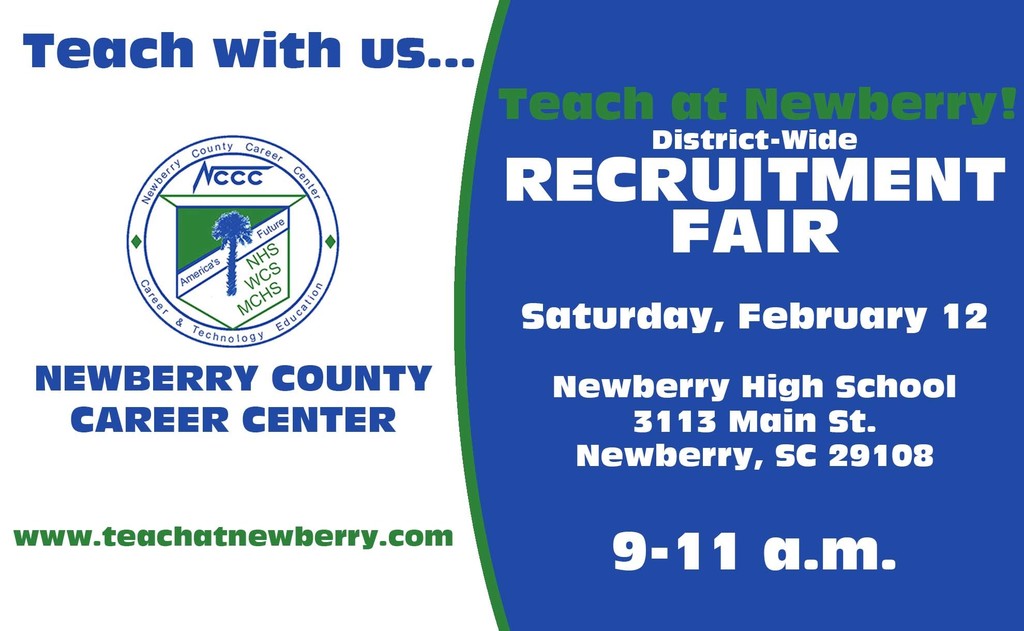 Encuesta Comunitaria de ESSER III El Distrito Escolar del Condado de Newberry necesita información sobre el gasto de la asignación de ARP - ESSER III. El SDNC recibió más de $ 15,2 millones para abordar la pérdida de aprendizaje y las necesidades académicas relacionadas con la pandemia de Covid19. Los fondos no se pueden utilizar para bonificaciones. El 11 de marzo de 2021, la Ley del Plan de Rescate Estadounidense (ARP) se convirtió en ley. El Departamento de Educación de los Estados Unidos está proporcionando $ 121,9 mil millones adicionales para el Fondo de Ayuda de Emergencia para Escuelas Primarias y Secundarias (Fondo ESSER III). Esta legislación otorgará estas subvenciones a las agencias educativas estatales (SEA) con el propósito de proporcionar a las agencias educativas locales (LEA) fondos de ayuda de emergencia para abordar el impacto que COVID-19 ha tenido y sigue teniendo en las escuelas primarias y secundarias de todo el país. la Nación. Por favor complete la siguiente encuesta:
https://docs.google.com/forms/d/e/1FAIpQLSe68t0vop3zRC4n7gkjzBg00beljT0orT04uS5Pwd1jEcTAEQ/viewform

ESSER III Community Survey The School District of Newberry County needs input on the spending of the ARP - ESSER III allocation. The SDNC received over $15.2 million to address learning loss and academic needs related to the Covid19 pandemic. Funds cannot be used for bonuses. On March 11, 2021, the American Rescue Plan (ARP) Act was signed into law. The US Department of Education is providing an additional $121.9 billion for the Elementary and Secondary School Emergency Relief Fund (ESSER III Fund). This legislation will award these grants to state educational agencies (SEAs) for the purpose of providing local educational agencies (LEAs) with emergency relief funds to address the impact that COVID-19 has had, and continues to have, on elementary and secondary schools across the nation. Please complete the following survey:
https://docs.google.com/forms/d/e/1FAIpQLSei9tClMHrmiD75mx587EV1x2WJzU8P3QljYmghF9bB9aZ2KA/viewform
The School District of Newberry County will continue to operate under the present guidelines from South Carolina DHEC and the South Carolina Department of Education regarding face coverings until clarification regarding a waiver is provided. Students and staff are expected to continue to wear face coverings as they have all school year. We will keep parents and families updated as we are provided additional guidance from the South Carolina Department of Education.
With Governor McMaster's signing into law S.704, all schools will return to 5 days of instruction beginning April 26. For students who are currently face-to-face, Wednesdays will now be an in-person learning day. For students who are currently enrolled in Newberry ONE, Wednesdays will now be synchronous (live) instruction days. This resolution is in place for the remainder of the 2020-2021 school year and for the upcoming 2021-2022 school year. We will continue to keep our current safety measures in place with masks, plexiglass, and social distancing until such a time it is deemed safe to discontinue these practices.
The Shriner's Hospital has created a series of videos targeting parents of virtual students, focusing on pediatric obesity prevention and reinforcing healthy orthopedic habits. However, these tips would also be helpful for those quarantined or isolated for extended periods of time. Part One provides helpful tips and guidelines for pediatric nutrition and sleep, Part Two helps parents ensure their child has an ergonomic workspace and Part Three demonstrates simple at-home exercises to break up the day. Virtual School Series: Part 1: Nutrition (2 min 57 sec)
https://www.youtube.com/watch?v=yBTcMI5r-5c
Part 2: Ergonomic Workspace (3 min 27 sec)
https://www.youtube.com/watch?v=bqwUe86CSLA
Part 3: At home exercises (2 min)
https://www.youtube.com/watch?v=qajovOsp7XM
The School District of Newberry County will host its annual Recruitment Fair on Saturday, February 20 from 9 am - 11 am at Mid-Carolina High School. All open positions are posted at
www.teachatnewberry.com
. All Attendees will be required to wear a mask and social distancing guidelines will be followed.